Snooze n Cruise at Ocean Landings Resort: Unwind Before Your Cruise with Go Port Canaveral
Welcome to Ocean Landings Resort's Snooze n Cruise Packages! Ocean Landings Resort is thrilled to offer you a unique and convenient vacation experience that combines the tranquility of our beachside resort with the excitement of a cruise adventure. Enjoy all that Cocoa Beach has to offer before your cruise with a Snooze Park Cruise package from Go Port Canaveral. This all-in-one package includes it all for Port Canaveral cruisers driving to their destination.
Package Includes: Hotel, Cruise Parking, & Shuttle Transfers
Accommodations at Ocean Landings Free Parking while Cruising (up to $100 savings) Shuttle Transfer to Cruise Ship | Pick Up: 10:45 Transportation from Cruise Ship back to Vehicle. Select Room Type to Book: Standard sleeps 1-4 people per room. Suite sleeps 1-6 people per room.
Unwind and Relax at Ocean Landings Resort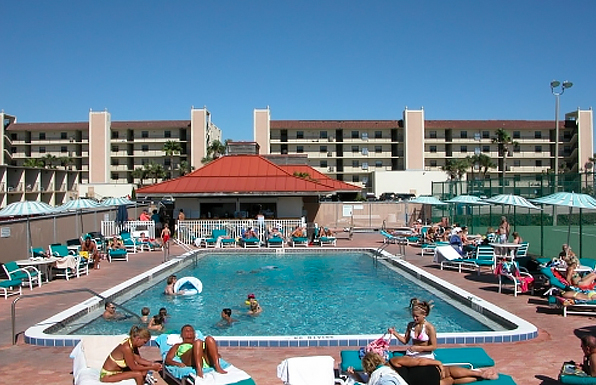 Your adventure begins at Ocean Landings Resort, a top-notch beachside resort renowned for its breathtaking views, world-class amenities, and warm hospitality. With a range of accommodation options to suit your needs, you can choose from luxurious suites to cozy beachfront rooms, all of which come equipped with modern comforts and stunning ocean vistas.
During your stay, indulge in a variety of resort activities, such as sunbathing on the beach, swimming in the sparkling pool, taking leisurely strolls on the shore, or simply sipping cocktails while watching the sunset. The resort provides numerous dining options where you can savor delectable cuisine prepared by our skilled chefs.
Seamless Transfers and Convenient Parking
Go Port Canaveral ensures seamless transfers from the resort to the cruise ship and back. With free parking while cruising, you can save up to $100 in parking fees, making your journey even more budget-friendly.
Embark on an Unforgettable Cruise Adventure
After a rejuvenating stay at Ocean Landings Resort, get ready for the next phase of your journey – the cruise adventure! You will be transported to the nearby cruise port, where you will board a magnificent cruise ship ready to set sail for exciting destinations.
The cruise itinerary varies depending on the package you choose, but it typically includes stops at stunning tropical islands, vibrant cities, or breathtaking coastal destinations. Whether you're interested in exploring ancient ruins, trying out water sports, shopping for souvenirs, or simply lounging on pristine beaches, the cruise has something for everyone.
Customization Options and Expert Assistance
At Ocean Landings Resort, we understand that each guest's preferences are unique. Therefore, we offer customization options for the Snooze n Cruise Package. You can choose the length of your resort stay and select from various cruise itineraries to match your interests and schedule.
Our dedicated team is always ready to assist you, from planning your trip to providing guidance during your stay at the resort and cruise. We strive to make your vacation as seamless and memorable as possible, ensuring you have an incredible time from start to finish.
Book Your Perfect Snooze n Cruise Package
Whether you're traveling solo, as a couple, or with a group, Ocean Landings Resort and Go Port Canaveral have the ideal Snooze n Cruise package for you. Don't miss out on this incredible opportunity to relax, explore, and create lasting memories. For more information and bookings, call Reservations at 855-755-4637. Embark on an unforgettable journey with Ocean Landings Resort's Snooze n Cruise Packages – a perfect blend of relaxation, adventure, and enchantment. Book your package now and create memories to last a lifetime!